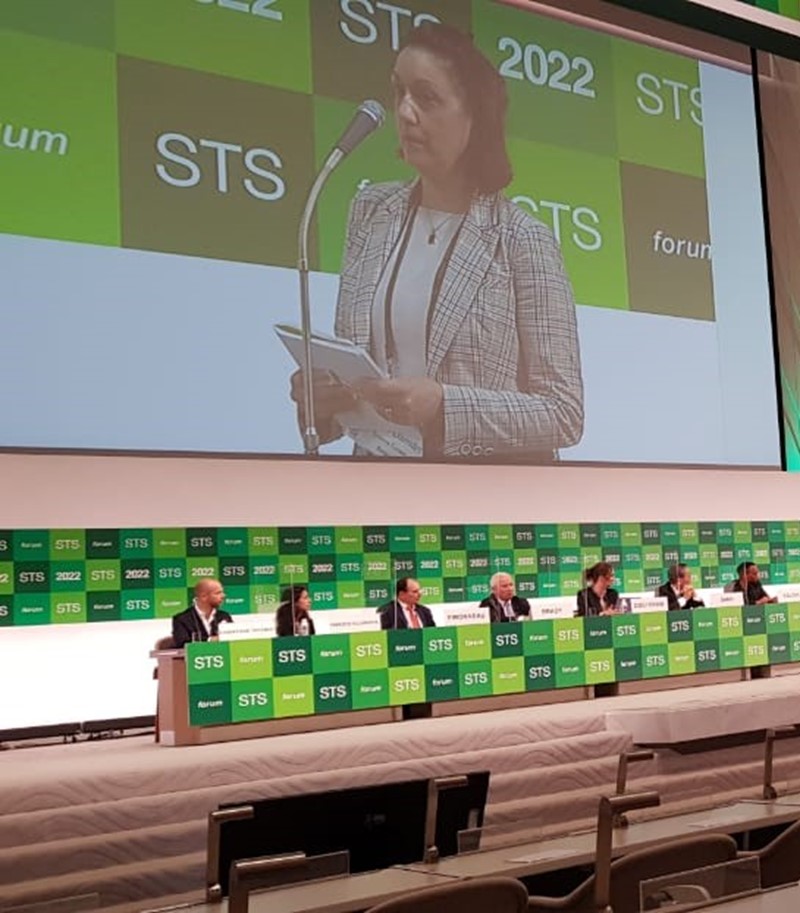 Science Europe participation in the Science and Technology in Society Forum
The 19th Annual Meeting of the Science and Technology in Society Forum (STS forum) took place at the Kyoto International Conference Center, Kyoto (Japan), 2-4 October 2022, with the participation of nearly 1,000 global leaders in science and technology, policymaking, business, and media from over 80 countries, regions, and international organizations.
Commissioner Gabriel spoke after the Prime Minister of the Government of Japan Fumio Kishida, highlighting the good progress in reinforcing research collaboration between the EU and Japan. Following the political welcome addressees, a wide variety of topics were addressed in multiple sessions, in the context of the many and coexisting crises. The topics addressed included an 'Analysis and Synthesis in Science–The Human Body and Mind'; 'Breaking Down Silos in Research'; 'Lights and Shadows of AI'; 'Energy and Environment'; 'Food and Water Security'; 'Preparing for the Next Pandemic'; 'Collaboration'; 'STEAM Education'; 'Challenges in the Digital Society'. At the end of the meeting, a statement was adopted, synthesising the outcomes of the discussions. It was presented by Professor Ismail Serageldin, Founding Director Emeritus of The Library of Alexandria, Egypt.
Several Members of Science Europe contributed to different sessions of the event, including AKA, ARRS, DFG, ELKH, FNP, NCN, NWO, RCN, VR. Secretary General Lidia Borrell-Damián attended the event and spoke on behalf of Science Europe and Marc Schiltz in the session on "Inclusion and Diversity in Science, technology, engineering and math (STEAM) education". The main points presented included the need to address the diversity gap in academic settings through teaching the younger generations the multiple aspects, challenges and opportunities related STEAM education; to ensure that citizens can realise their potential regardless of their gender, sexual orientation, religion, disabilities, ethnic origin, or social background. The point that research outcomes are more accurate, of higher quality, and more impactful when diversity is considered was also made. Together with other speakers, Lidia Borrell-Damián, proposed to address gender issues in depth in future STS Annual Meetings.
A special Memorial Lecture, honouring STS forum founder and Former Minister of Finance in Japan Koji Omi, who passed away in April this year, took place with Joseph Stiglitz Professor of Economics, Columbia University, U.S.A. and Nobel Laureate in 2001. Proposals for the creation of a Koji Omi special fund for emergency situations were made. A session on 'Basic Science, Innovation and Policy' was chaired by ERC President Maria Leptin.
Back-to-back to the central STS forum programme, the 14th Meeting of the Regional Action on Climate Change (RACC14) took place on 2nd October. Converging risks related to food and water under stress were discussed. It was agreed that there is no progress in reducing global warming, which is resulting in alarming shortages of water and increased number of vulnerable populations. RACC14 Chair Professor Jim Falk, Melbourne University, called for urgent action to governments, to enhance their political will to support climate adaptation and to develop economic models aimed at building resilient societies. Links with the upcoming COP27 event in Egypt were made.
12th Funding Agency Presidents' Meeting
In parallel to the STS forum, the 12th Funding Agency Presidents' Meeting took place on 3rd October. Around 50 Heads and high-level representatives of research funding organisations discussed two questions in 8 breakout tables. The first question was 'What practical steps can funders take to mitigate the effect of crises on research cooperation, and ensure continued scientific excellence?' and the second 'What type of network is most robust during a crisis? And how can we nurture these robust networks?'.
There was consensus around the need to reinforce research collaboration online using modern technologies (e.g. online discussions, establishment of open data bases) and foster multidisciplinary research by encouraging mobility of young researchers. These suggestions were made on the reflection that the Covid-19 crisis had decreased physical mobility, however demonstrated that online research collaboration could work very well. Proposals to bring closer research funding organisations, research performing organisations and academic societies were made. It was also proposed that umbrella organisations such as Global Research Council (GRC) and Science Europe could play an important role in this respect.
The summary of the 2022 FAPM discussion will as an input to other forums, such as the 2022 World Science Forum, Cape Town, 3-6 December, and the Global Research Council (GRC).