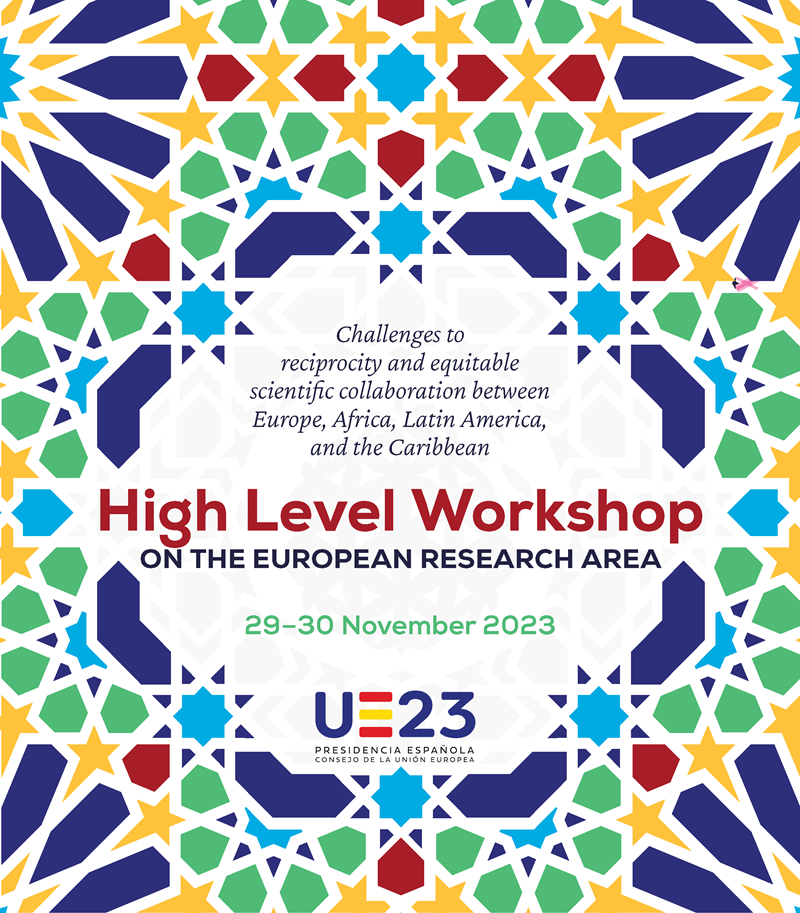 High Level Workshop on ERA 2023
Challenges to reciprocity and equitable scientific collaboration between Europe, Africa, Latin America, and the Caribbean
The High Level Workshop on ERA offers an annual platform for Science Europe Member Organisations, national ministries, and EU institutions to discuss progress, specific aspects, and future development of the ERA.
The High Level Workshop on ERA 2023 is co-organised by Science Europe and:
the Spanish National Research Council (CSIC)
the Spanish Ministry for Science and Innovation (MCIN)
Background of the Workshop
Geopolitical tensions have increased dramatically over the last decade. Human rights and fundamental values are systematically challenged in many parts of the world, including in Europe. The European Union intends to promote an approach to multilateralism based on reciprocity to ensure that technology is developed for the benefit of individuals and societies. This should be carried out with respect for the highest ethical standards, academic freedom, and human rights, while promoting mutual openness in research and innovation co-operation, in line with the values and principles guiding research.
The 2023 High Level Workshop aims to support Science Europe's Member Organisations to define international research projects and programmes according to central values such as freedom of scientific inquiry and reciprocity, in the context of increased geopolitical tensions. It has the following objectives:
Promote further dialogue on the conditions and policies for boosting international scientific collaboration between Europe, Africa, Latin America, and the Caribbean.
Discuss the best practices to ensure that international scientific collaborations safeguard principles such as academic freedom, integrity, and reciprocity between Europe and the mentioned regions.
Share the challenges and opportunities offered by existing international scientific collaboration instruments, such as funding tools and research mobility programmes.
The outcomes of the High Level Workshop will increase the understanding and sharing of strategies and policies related to international research collaboration. The discussions will be useful to improve policies that frame the conduct and dissemination of research activities, funding instruments and mobility programmes for international research collaboration.
The event is part of the implementation of the ERA Policy Agenda 2022–2024, in particular of Action 9 to "promote a positive environment and level playing field for international co-operation based on reciprocity." The High Level Workshop will inform pan-European co-operation on the issues mentioned, to be taken forward within the ERA Forum.
Attendance
Attendance to the High Level Workshop is by invitation only. The event brings together heads of major European research performing and funding organisations, representatives from European science ministries, and senior officials from the European Commission, alongside invited experts and/or researchers, to discuss a topic relevant to the development of the European Research Area.
Welcome by the Host
Our campaign page 'Talking Science: Fostering International Collaboration' showcases the activities of Science Europe Member Organisations related to international scientific collaboration with Africa, Latin America, and the Caribbean. 

We are sharing these initiatives with our online community under the #TalkingScience. Join us and follow along:
Member-only content is available on this page. Please log in to view this content