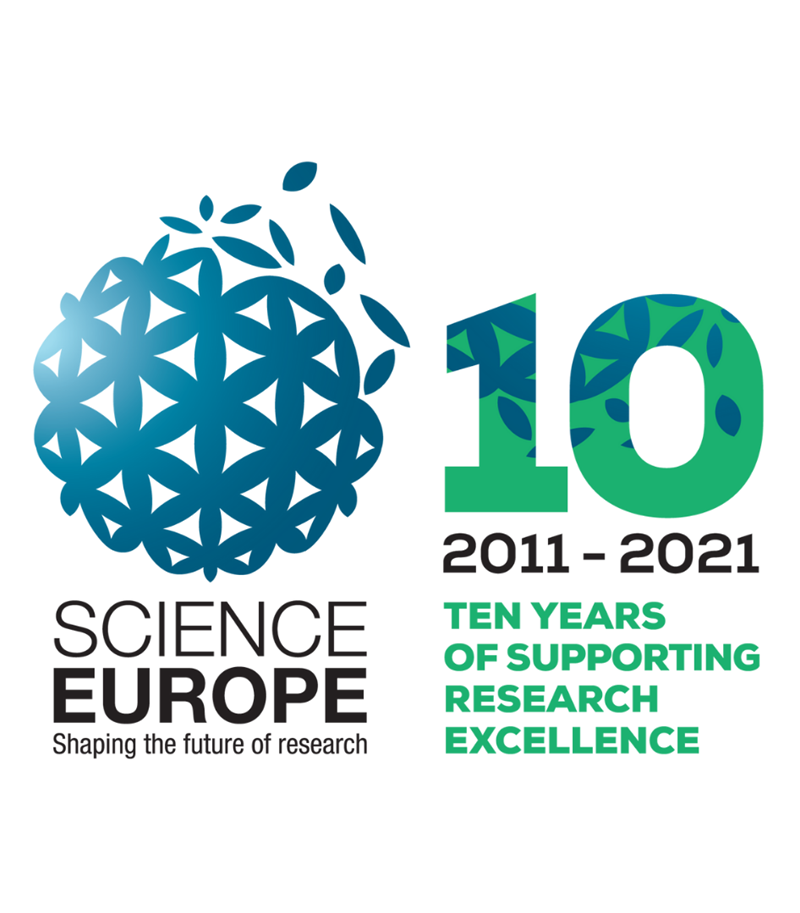 Science Europe's celebrations in full swing
Having been founded in 2011, Science Europe celebrated its 10th anniversary and the achievements of the association during that period. Celebrations took place on the occasion of the 2021 High Level Workshop on the European Research Area.
Former Presidents, Governing Board members, and Office leadership contributed to the celebrations.
Founded in October 2011 in Berlin by seven official founding members and a total of 49 member organisations, Science Europe has grown to be a respected and influential voice in the European research policy debate. Thanks to the contributions from its member organisations, it has helped shape many European policies and research-related EU legislation.
Science Europe 10th Anniversary
You may have seen our special logo: "10 years of supporting research excellence". It was created to celebrate the first ten years of the association, in which it has worked with its Member Organisations to do exactly that: support research excellence throughout the European Research Area and beyond.
The anniversary was celebrated during a reception held at the High Level Workshop venue on 24 November in Luxembourg. It was remotely broadcasted and, in addition to the guests of the High Level Workshop itself, Science Europe's previous Presidents, Governing Board Members, and Office staff joined the commemoration. Following the reception, those present in Luxembourg participated in a dinner at Chateau Bourglinster, hosted by the President of Science Europe.
"The foundation of Science Europe in Berlin actually happened following a ground-breaking process, led by inspiring colleagues such as Paul Boyle and Matthias Kleiner. The original idea of setting up a single visible, and active representation of Europe's leading research organisations is as impressive today as it was back then. Since then, Science Europe has produced a number of well-received position papers and guidelines for excellence in funding and performing research," stated Professor Katja Becker, President of the German Research Foundation, in a video message.
"I have the privilege and joy to be one of your founding fathers. In those days we intended to create a powerful voice: we wanted a European Research Area built up by scientists and science organisations all over the continent, side by side with the European Commission and national governments. Today the success is obvious: Science Europe is a clear and well-established voice of science in Brussels, representing research organisations, […] standing in for excellence in research, for co-operation and competition, for scientific freedom and integrity, and for mobility and participation," affirmed Professor Matthias Kleiner, President of the Leibniz Association.
During its anniversary event, Science Europe published a video celebrating the occasion with its Member Organisations and highlighting the importance of embedding a healthy culture in the conduct of research. In the video, heads of Science Europe Member Organisations explain what research culture means for them and give an overview of the measures currently implemented within their organisations to foster diverse, inclusive, sustainable, and attractive environments across the research community.