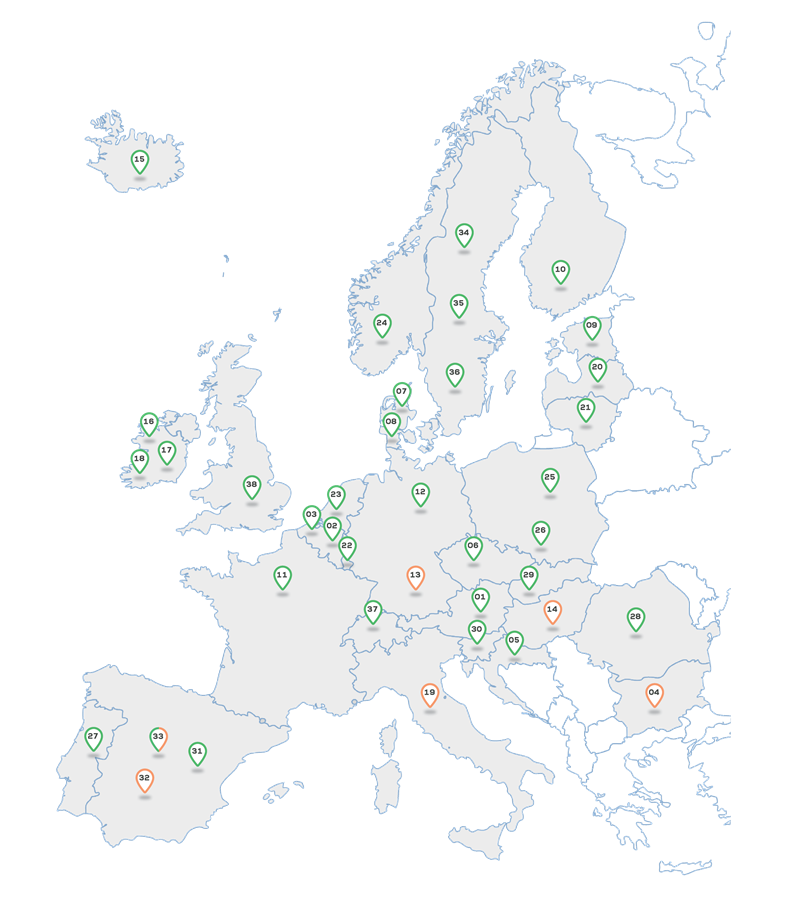 Science Europe Welcomes Two New Member Organisations
On 19 May the Science Europe General Assembly accepted the application of two new research organisations to the association: research performing organisation the Eötvös Loránd Research Network (ELKH) from Hungary and the dual research funding and performing organisation the Institute of Health Carlos III (ISCIII) from Spain.
Science Europe now represents 38 research funders and performers from 28 countries. Its members make a significant contribution to European scientific research, are crucial stakeholders in European science and research policymaking, and spend €23.9 billion on research per year.
"Science Europe is pleased to welcome ELKH and ISCIII as two organisations that play a central role in their respective national research systems and in Europe. We look forward to collaborating with them and enriching our association with their expertise" said Marc Schiltz, President of Science Europe.
"We highly appreciate the opportunity to join Science Europe together with its distinguished members that contribute to the advancement of science. The mission of ELKH is to operate Hungary's publicly funded research network with a continued emphasis on excellence. Crucial to delivering our mission is to help translate the results of basic and applied research into solutions that address domestic and global, social and environmental challenges and looks to a future of building new partnerships in related research programs. We support Hungary's endeavour to strengthen its position in Europe's R&I ecosystem and are committed to contributing to its development. I look forward to our involvement in shaping the best conditions and policies for scientific research in Europe in partnership with Science Europe" said Miklós Maróth, President of ELKH.
"I am really thankful and happy that the Institute of Health Carlos III is joining Science Europe. We will now be able collaborate closely with some of the largest European funders and performers of science and innovation, jointly contribute to build the European Research Area, and shape the global scientific agenda, precisely in times where R&I have demonstrated its utmost importance" added Raquel Yotti, General Director of ISCIII. "The mission of the Institute is to contribute to improving the health of all citizens in Spain and to fight diseases through the promotion of R&I in Health Sciences and Biomedicine. It also provides ground-breaking scientific and technical services and educational programmes directed towards the Spanish National Health System. To this end, our priorities align closely with those of Science Europe such as realising Open Science, promoting research culture, developing excellent Research Infrastructures, and collaborating to tackle health emergencies such as COVID-19. We are looking forward to this new journey!"
Science Europe will celebrate its 10th anniversary in 2021 and is on the brink of launching a new organisational strategy to drive the direction of the association over the coming five-year period. The addition of ELKH and ISCIII to the network further helps to strength and diversify its network and increase its ability to support excellent research in Europe and beyond.
For more information on Science Europe's members see http://scieur.org/members
Established on 1 August 2019, ELKH manages and operates the publicly funded independent research network in Hungary. The research network comprises of 11 research centres (with 42 correlating institutes), 7 autonomous research institutes and more than 150 additional supported research teams operating at universities and other public institutions, conducting basic and applied research exploring the most varied disciplines of mathematics and natural sciences, life sciences, social sciences and the humanities.

ISCIII is the main public research entity funding, managing, and carrying out biomedical research in Spain. Founded in 1986, and in addition to promoting and coordinating biomedical research, it offers scientific and health technical services to the National Health System (SNS) in Spain, and has training programs in public health, health management, and scientific management.