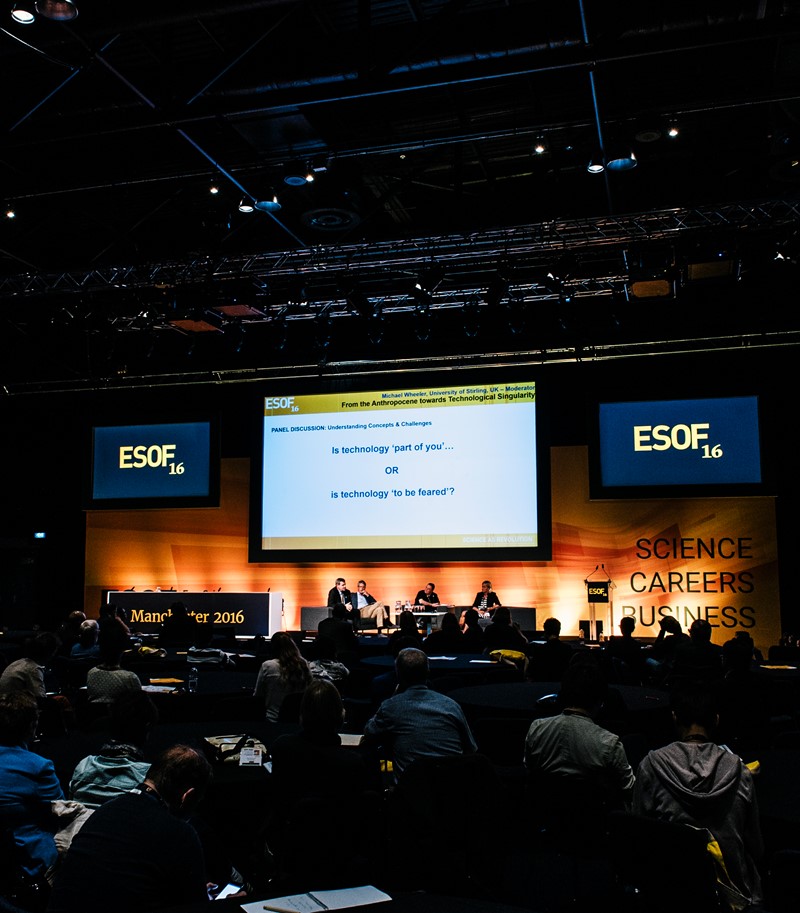 As part of the scientific programme, Science Europe organised a session entitled 'Beyond the Anthropocene: Where Mankind and Machines Converge'. This session was originally conceptualised as a joint session by the six former Scientific Committees, and involved representatives from both the 'old' committees and the new Scientific Advisory Committee alongside external experts from the School of Advanced Study of the University of London and other universities focusing on the study of the mind and on behavioral and cognitive sciences.
A panel discussion, followed by an interactive round table featuring scientific experts from different fields, addressed the issue of the future impact on society resulting from current technological changes and the relationship between human beings and machines. Executed as a 'pro and con' debate, an interdisciplinary exchange helped the audience understand both the threats and opportunities posed by technology to humans. The discussion was driven by the interplay between philosophical, ethical, and cultural reflections on the 'beyond Anthropocene' epoch on one side, and the medical, neuroscientific, and Artificial Intelligence (AI) approaches on the other.
The debate involved 200 engaged conference participants who posed interesting questions on technological resilience including the consequences of technological dependence and automation of human functions, expectations regarding the need to improve digital skills, and how the respect of ethical values is fundamental to human well-being. The audience's understanding of the complexity of technological singularity, opening up the possibility for autonomous AI as well as for cyborgs (human–technology hybrids), was tested by asking the question "Is technology part of you or is it to be feared?", and also to assess the influence of an interdisciplinary debate. The result was extremely supportive of the 'pro-technological' approach at the beginning of the debate, with a slight change towards a more balanced result at the end of the session.